Mary Wark
Mary Wark, a loyal customer since 1975, has many fond memories of shopping at Garrison's and gardening with her late husband, Mike. In fact, Mike's passion for gardening developed after she "transplanted" him from California to Louisiana. Needless to say, Mike "transplanted well," Mary says, and his curiosity about the foliage here in Louisiana blossomed into a beloved hobby. Currently, Mary visits Garrison's to maintain his beautiful Country Cottage Garden at their home near Greenwood – although now with a touch of her free-spirited flair.
Vitex, Weigela, Belinda's Dream Rose and Drift Roses are some of her favorite plants, along with peaches and mayhaw for her homemade jellies. Her red Weigela – an incidental purchase after coming to Garrison's in search of pink and only finding red –turned out to be the most outstanding plant in her garden last year – a true "showstopper"! Mary also loves plants that reseed, like the California Poppies that line her walkway, Passalong Phlox and Fuschia. Our mulch tops her list of Garrison's favorites, as well. However, shopping at Garrison's isn't all about the blooms or the mulch for her; Mary loves to give to local businesses and praises Garrison's for its warm, friendly atmosphere. Among her fond memories, along with ours here at Garrison's, is the hospitality of the late Mr. Garrison. He was always happy to see Mary and Mike when they visited and would give them a complimentary plant. The Wark's beautiful garden has not gone without praise; it has been featured two times on the Master Gardener tour. It's safe to say that Mary will continue to be one of our most dedicated customers, and we greatly appreciate her patronage.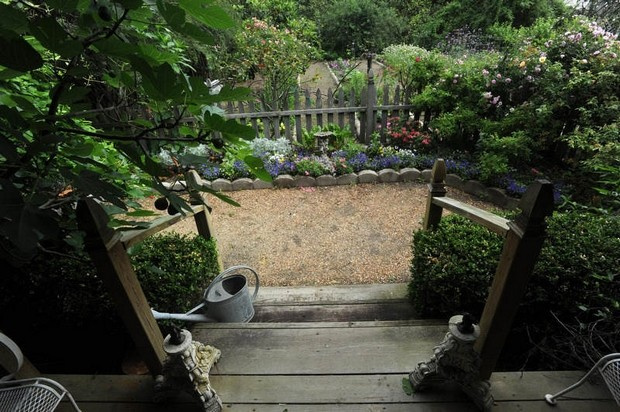 _________________________________________________________________________________________________
Bruce Burnham
Bruce Burnham lives on Cross Lake where he says his daughter describes his home garden/landscape as "free-range" because he has a vegetable garden, a Prayer garden, a Patriot bed, a butterfly garden and a shade garden. You will find any vegetable, Sasanqua, Red Hot Poker, Junipers, Mexican Petuna and Jewel of Opar. Bruce will tell you that his all-time favorite plant would have to be a tomato plant. Every year, in the warm months, he grows 50-75 tomato plants. He will give away a large portion of the harvest and eat the rest. Jeanie Burnham, Bruce's wife, will freeze some of the tomatoes to use in winter for soups and gumbos. Each year Bruce will try 5-7 varieties which always include his favorites, Parks Whooper and Celebrity and tells us that the Cherokee Purple (heirloom) will join them to make his top 3 this year. His other favorites are Burpee's Supersteak Hybrid, Goliath, and Red Beacon. In the cooler months Bruce grows broccoli and greens and says there is no greater difference in taste between store bought and home grown than with broccoli and mustard greens. He thinks everyone should know how to grow some of their food because it can save you money but also you know what was used on your food in the way of pesticides or herbicides.
Most of Bruce's gardens, especially the vegetable garden was built with wheelchair access in mind since he has used one for almost thirty-eight years. Bruce says the physical work, fresh air and sunshine has been good for him and that there is something therapeutic and relaxing about digging in the soil and planting something. "God has blessed me in so many ways, one of which is finding that thing that you love to do."
Why do you choose to shop at Garrisons? "The people. All of the people working there are not only very friendly but very knowledgeable. I still work full time so I don't have time to research every question I have, but Tim, Mark, Rick or Michelle usually have the answer. Also, I began transitioning to more organic gardening a couple of years ago, especially with my vegetables, and Tim can usually order any unusual product request that I have."
Bruce's Favorite Memory of Garrison's: "Of course that would be Mr. Garrison. I loved to sit in the greenhouse and visit with him. He very often would send a small pot of something flowering home to my wife or mother-in-law. I own a small business so I know how huge an accomplishment it is for Garrisons' to have been around for over 50 years?
---
Toyleca Armstrong Brewer
Toyleca Armstrong Brewer is our second loyal customer and has been for ten years. Toyleca lives off Pines Road in the Huntington Park subdivision. She loves to raise lilies, daylilies, hostas, perennial hibiscus and of course her favorite, roses, of which she has hundreds of all kinds. She tells us her love of roses started with one yellow rosebush that performed so well one summer that every year afterwards she added more and more and she just fell in love with roses and her roses seemed to love her back so a beautiful relationship began.
Toyleca loves to pick flowers, especially roses, to make bouquets to take to her patients at work. As a nurse, she works with the elderly and says it's depressing when he patients are sick and have been in the hospital 3-4 weeks. She likes to brighten up their day with beautiful flowers and they are so appreciative and some even cry. Toyleca is just a very caring person who loves doing sweet things for people. In addition to her patients, Toyleca also shares her beautiful bouquets of roses with co- workers, church members and neighbors. She helps her mother and mother-in-law by helping them plant their summer flowers and shares her love of roses with them by planting her "signature plant", a rose bush, in their yard. Toyleca says, "Gardening is my therapy so I don't have to take Prozac." She also thinks gardening calms her nerves and soothes her soul. Toyleca said, "I can be having a bad day but when I take a walk thru my garden and see all the amazing flowers that God and I have created, I just feel so blessed so that's why I try to share that blessing with others."
Why do you choose to shop at Garrison's? "Because they have the healthiest flowers, large variety, and the staff is so knowledgeable, helpful and just so sweet. I love it."
What is your Favorite Thing or Memory of Garrison's?"The rose seminar I attended which was very helpful and I even won a free rose. Loved it".